Back in 1994, when RPGs existed almost exclusively as physical products, a Scottish company called Sanctuary Games put out Tales of Gargentihr. It was cool, chaotic, a bit too self-consciously weird for its own good and, apparently, a commercial disaster. In the UK it cropped up in the bargain bins of secondhand bookshops for a time, then faded away.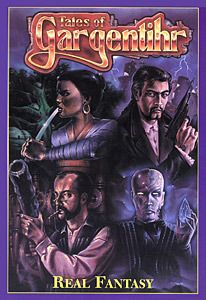 I particularly remember being struck by the cover, which rather reminded me of a computer game called, I think, Chaos Engine.
Anyway, a company called Digital Animations had the property for a while, but little came of it. They did have a website at least and parts of it still survive on the Wayback Machine... but critically not the bit I need. If you follow that link you should see that you can go through to a scenarios page describing two products: one, Secrets of the Wind, exists in the archive and can be downloaded; the other, the far larger The Khan'Chak Experiment, is sadly missing and I'm hoping that someone out there might have a copy. It's possible that this scenario might have once been released on floppy disk, or that could have been another product entirely. Information, from those early Internet days, is frustratingly sketchy.
So, if you've any friends into slightly obscure games who might once have downloaded that adventure, or if you're aware of somewhere it can be found (or even if your 'net skills outstrip mine and you can locate it that way), please let me know. Can't promise that Tales... will ever get an outing with Whartson Hall, but it's been sitting on the shelf for a long time, patiently waiting for some attention...