Fans of old-school D&D, look here! (*Cough cough* @Daniel *Cough*)
Paul Hughes has created a Flash game called Dungeon Robber, which generates random dungeons based on the original merciless Dungeons & Dragons rules and allows you to play through them.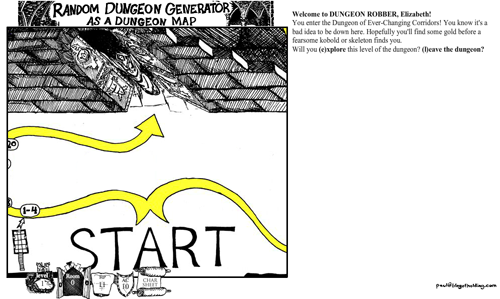 The rest of Mr. Hughes' blog, Blog of Holding, is well worth perusing, as well - for example, check out some of his most recent posts, featuring a set of random fantasy city generation tables, 20 additional trinkets for starting D&D 5E characters, and this delightful short treatise on why you shouldn't torture NPC prisoners:

Halflings: Torture is unnecessary to get information out of halflings. Just engage them in friendly small talk. They will accidentally reveal 1d4 secrets per hour, from closely-guarded pie recipes to secret tunnels into the castle.
Orcs: If you try to torture orcs, or even tie them up, they will get so mad that the pulsing vein in their forehead will burst and they will die.
Elves: Elves enter a trance state much like the gnolls do, except theirs involve dancing in magical glades instead of running down panicked humans. Instead of slavering foam, they murmur, "More tea?" and "Sindural shall play the aulos while Mistral distributes the mystic crumb cakes." But elves will tell you anything during pillow talk.
Half elves: Half elves never have secrets worth knowing.
(No doubt @TheGlen will agree with the point regarding elves and their rampant sexual appetites.)