Sometimes you really can judge a book by its cover.
There has been an awful lot of bad, bad art in the gaming business since the start, some due to lack of funds, some due to enthusiastic rather than professional publishers employing the talents of their brother or best school chum, some due to... well, I've seen a few "what were they thinking?" pieces which seem to have no explanation.
I'm not here to talk about that art.
No, this is an appreciation thread, appreciating the art that dragged us into a game, that made us pull it down from the dusty shelf at the gaming shop, that made us need to play the game. It doesn't even matter if the game turned out to be a colossal turkey or hopelessly mediocre, the point is that something about the cover called to you, offering adventure, excitement and really wild things. It certainly doesn't matter if the art would stand up as a "good" picture, ready to hang in a gallery. What matters here is why it appealed to you. Tell us about the cover that sold you on the game and let us know how it managed it.
Please note: To avoid creating huge single posts and causing problems for people with slower machines, please post relatively small pictures and try to restrict yourself to two or maybe three in a single post. It's fine - indeed it's encouraged! - to post multiple times and tell us about several games, but the thread will be much more manageable if we don't go overboard. Thanks.
And to kick us off...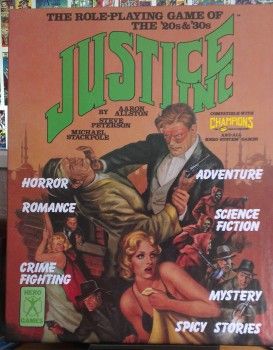 He'd already done it with his explosive spy action cover for Mercenaries, Spies and Private Eyes, but Brian Hamilton grabbed my attention again with this gloriously exotic, thrill-packed painting for Justice Inc. from Hero Games. It was an unusual colour for a game box at the time (still is, indeed) and the Hero crew matched it perfectly to lurid green lettering and enticing text. Spicy Stories! You only had to look at the sheet-clutching blonde to understand that. The immaculately dressed masked protagonist struggling with an armed man in exotic, almost eastern garb... Skull-faced cultists... Tommy guns... Minarets silhouetted behind them... I couldn't wait to get a copy. So much promise and possibility crammed into one perfectly composed image.
So... how about you?