Dream Park
is up, two sessions chock full of magic, mayhem, monsters and more Ron Jambo than you can safely strap a grenade to.
*
That being the case I thought I'd take the opportunity to ask a favour:
Soldiers & Swords
produced a line of metal minis for the
Dream Park
RPG, long discontinued, of course. You can see the listings over on
the Lost Minis Wiki
. I have a fair few of them, but there are several packs I'm still on the lookout for:
145001 Psionic, Male Cyberpunk, Female Cyberpunk
145004 Martial Artist, Adventurer, Jungle Princess
145006 Male Engineer, Female Engineer, Dr. Weitzer
145007 Male Superhero, Female Superhero, Captain Freedom
145012 Monsters

The packs look a bit like this: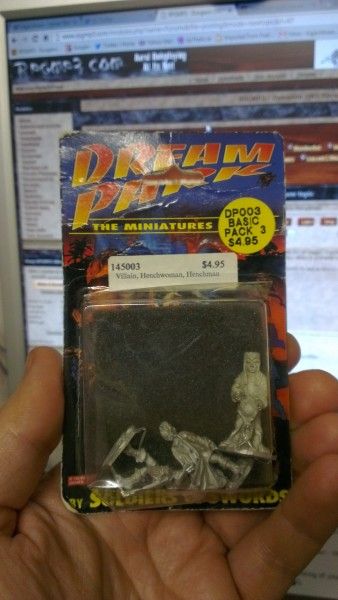 Thought I'd found most of them at Sentrybox.com, but sadly although they had them listed nobody could actually find them in the stockroom. So, if anyone spots these blister packs lurking in the dusty corners of a shop anywhere I'd be grateful if you could let me know. Thank you kindly.
* And that's a lot of Ron Jambo.