Our past is your future! Whartstock 2011 recordings, coming soon...
A terrific, tiring, hilarious and thoroughly enjoyable weekend of friends and games has concluded, with the last guests from
Whartstock 2011
departing
Perfunctory Manor
to return to their various corners of this fair land. It's remarkable just how far people will travel for something like this, a real privilege to have friends who are prepared to make sacrifices of time and money in order to throw dice and camp out on our back lawn
This year the hosting duties were shared by The Lovel Emma and myself here at
Perfunctory Manor
, and Chris and Helen who very kindly ferried us all across to their house yesterday for the big Hero System game. Whartstock 2011 started with sadness as a death in the family meant that Martin and Zoe were unable to host the games this time, but with a little good will on the part of the attendees we managed to squeeze everyone into our house during the day, spilling over to a small tent village (provided generously by camping maestro Riddles) at night for those people who couldn't find floor space for their sleeping bag. The gentlemen did the honourable, adventurous thing and slept in the tents, leaving the spare room for Isis. The Weasels, thank goodness, travel with their very own accommodation, which they parked on the drive.
Now that everyone has gone I'm retrieving audio files from various recorders and mobile 'phones and will be putting the recordings together and uploading them for Hal soon. Expect them to appear in the patrons' area first, then here on the main site in coming weeks. It looks as though all but a few minutes, lost when one of the recorders maxed out its memory card, have been saved, so you can look forward to games of
The Mountain Witch, Hero System
and
Monsters! Monsters!
Thanks to everyone who came and gamed. It's interesting to consider how many of the Whartstock attendees came together through RPGMP3.com, actually. To anyone who enjoys the recordings I strongly urge you to call a few friends and put together a "stock" of your own. It's a wonderful, friendly gathering, a weekend of enjoying the real heart of our hobby.
A few photos to start things off, to be joined soon, I hope, by rather better snaps from the other Whartstock gamers:
Some boardgames, cards and dice ready for a gentle Friday start to Whartstock: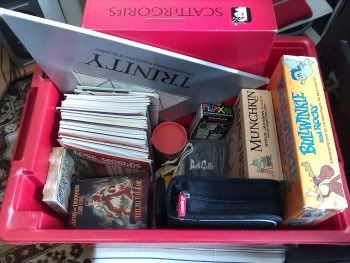 Nick makes himself rather too obvious a target...
Beer, dice and two sorts of cake at the big Hero System game: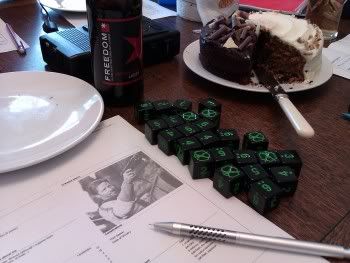 Most played game of the weekend: Nick, Weasel, Isis and Sara fail yet again to save the world in
Pandemic
: